As the associate editor at Downtown Magazine, there are some initiatives and voices in NYC that we love to share directly. Below is an article from the Downtown Alliance.

Coffee, Wine And Fine Dining For A Very Good Cause
Help the people and animals impacted by the devastating wildfires in Australia by wining and dining in Lower Manhattan. From January 13 to 19, Boundless Plains Espresso, an Aussie-inspired cafe on Rector Street, will donate 100 percent of its profits to help Australia heal. At Crown Shy, on Friday, January 17, and Friday, January 24, the revenue from special seatings of Australian wine dinners will go to the Australian Red Cross and a koala hospital. And starting January 10, Crown Shy will exclusively serve Australian wines in their by-the-glass pours all month long, donating 10 percent of the earnings.
You can also donate directly to the Australian Red Cross here.
Feast At Eataly NYC Downtown's Winter Wine And Food Festa
Get all the Italian comfort food you want — plus wine, cocktails and more — at Eataly NYC Downtown's Winter Wine & Food Festa. Each month, this bacchanal gives ticket-holders a chance to enjoy multiple courses of stick-to-your-bones Italian cuisine. The year's first festa is Friday, January 17, 6-8p. Tickets are $65.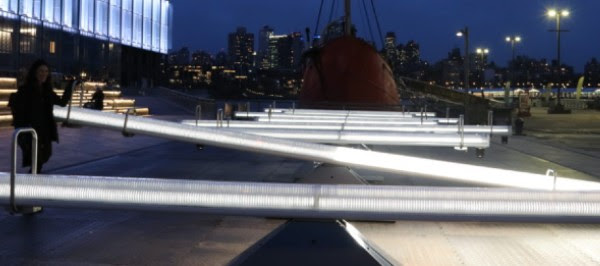 Fend off those winter blues with some actual ups and downs thanks to an experiential art installation lighting up Seaport Square. Eight giant seesaws that glow and create surreal soundscapes when in motion give passersby a chance to interact with the city and one another in a new, quirky way. Try them out anytime between 10a to 9p.
Etsy's Crafty Approach To Countering Climate Change
On Thursday, January 30, Etsy's director of sustainability and integrated marketing manager are coming to LMHQ to discuss environmentally-savvy solutions that could change the future of e-commerce's impact on climate change. Etsy is going the extra mile to offset carbon emissions: for every product it ships, the site invests in projects that reduce carbon emissions by the same amount. 6p. $15.
Turn Back The Clock With Alexander Hamilton History Buffs 
Pop into Fraunces Tavern on Thursday, January 16, for a side of history with your post-work pint. The historic watering hole's museum is hosting Brown University's Barbara Chernow, an expert on all things Alexander Hamilton, who will discuss the importance of the Founding Father during America's halcyon days, as well as how historical research impacts our perceptions of the past. 6:30p. $10, $5 for members.
There's A Lot To Love About The Year Of The Rat
Despite what any seasoned New Yorker might think, there's a lot to embrace about 2020 being the Year of the Rat. This ubiquitous city inhabitant is super smart and resourceful. And let us not forget how certain famed rodentia (e.g. Pizza Rat, the four-legged chef from "Ratatouille") have warmed our hearts. So learn more about this year's animal and the Chinese zodiac calendar at one of the China Institute's Lunar New Year events.
Book Your Rezzies For NYC Restaurant Week 2020